Delta RC AS develops products for the assistant market which is made in cooperation with leading specialist within the field in Norway. All products can be bought through our partners TekTeam AS and Handicare AS. 
DE202 RICON RC - Assistant remote control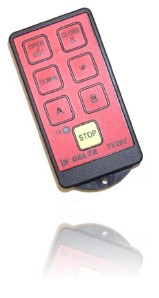 Delta DE202 is a wireless remote control, designed for Ricon wheelchair lifts . The system consists of a hand-held transmitter, a receiver and cables for connecting the receiver to the equipment in the car. The transmitter has six push buttons that control up to eight outputs on the receiver , depending on the features the installation has . Both transmitter and receiver are designed to conform to the strictest safety standards.
Part no.: 01960 – TX202 Ricon RC set
This art.no. is a set which includes transmitter and neck strap 
Part no.: 01958 – Delta neck strap
For prices and delivery time, please contact your local reseller or Delta RC AS directly.
General spesifications
* Frequency: 433.920 MHz +/-50 kHz.
* Modulation: FSK,
* Transfer speed: Max 4,800 bits/sek.
* Coding: Digital coding, 65.536 different pre-set codes from manufacturer.
* Functions: Six functions and «Stop».
* Temperature range: Usage: -20 til +50º C.
Storage: -40 til +65º C.
* Shock protection: 1 m free-fall on concrete floor.
This equipment complies with EU standard I-ETS 300 220 and EN 50082-2. This satisfies the EU's requirements for CE marking of the equipment.